Japanese Modern Literature (from 1868)
When Japan opened to the rest of the world in the Meiji period (1868-1912), the influence of western literary concepts and techniques was felt strongly. Novelists experimented with 'new' ideas such as liberalism, idealism, and romanticism and were variously influenced by French, British or German literature.
One writer who came to Japan and became the first foreigner to truly capture the essence of the country in his work was Lafcadio Hearn, better known in Japan by his adopted name Koizumi Yakumo (1850-1904). Kwaidan, a collection of ghost stories, is perhaps his work best known by Japanese people.
The period between the turn of the century and the domination of militarism in the 1930's produced three great writers: Mori Ogai, Natsume Soseki and his protoge Akutagawa Ryunosuke.
Ogai (1862-1922) gave up an early literary career to concentrate on his work as a doctor with the Japanese army, returning to writing only after his retirement. He was inspired mainly by German literature and played a leading role in the Japanese romantic literary movement. He wrote poetry, drama and historical biography, but his best work of fiction is considered to be his novel The Wild Geese (1912). It is a poignant story of unfulfilled love, set against the background of the dramatic social change that came with the fall of the Meiji regime, as the young heroine is forced by poverty to become mistress to a moneylender.
Soseki (1867-1916) - as he is usually known - began his career as a scholar of English literature at Tokyo Imperial University. He resigned to devote his time to writing and published his first novel Wagahai wa neko de aru (I am a Cat) in 1905. It is a satirical portrait of human vanity and was followed by increasingly pessimistic, brooding novels such as Kokoro (Heart) and his unfinished masterpiece, Meian (Light and Darkness). Soseki's works often dwell upon the alienation of modern humanity, the search for morality, and the difficulty of human communication. Soseki's portrait graced the front of the ¥1,000 note for many years.
Akutagawa (1892-1927) is best remembered today for the literary prize in his name that is awarded to young fiction writers. He was a prodigious student and studied under Soseki at Tokyo Imperial University. His most famous work is Rashomon and Other Stories (1915), the title story of which was one of the sources of Kurosawa Akira's masterpiece. In this book of short stories, he questions the values of his society, dramatizes the complexities of human psychology, and studies, with a taste for Zen-like paradox, the precarious balance of illusion and reality.
During the 1930's and 40's, the domination of the military meant that literature was largely stifled. The two great writers to emerge in the postwar period were Kawabata Yasunari (1899-1972), who was awarded the Nobel Prize for literature in 1968, and Tanizaki Junichiro. Their most famous works are Kawabata's Yuki-guni (Snow Country, 1935-47) and Tanizaki's Tade-kuu Mushi (Some Prefer Nettles, 1928). The former tells of a relationship between a middle-aged writer and an aging geisha. The latter uses the cities of Tokyo (which had just been devastated by an earthquake) and Osaka as symbols of the conflict between modern and traditional Japan.
Perhaps better known abroad is Mishima Yukio (1925-70), whose life and death were as dramatic as his art. He was a homosexual and obsessed with the body, physical beauty and its inevitable decline and death. His first major work was Kamen no Kokuhaku (Confessions of a Mask, 1949) and he handed his last, the 4-part novel Hojo no Umi ( The Sea of Fertility, 1965-70), to his publisher on the day of his death.
Another masterpiece, Kinkakuji (The Temple of the Golden Pavilion, 1956) tells of a monk disgusted by his own ugliness who burns down the famous Kyoto pavilion rather than see it fall into the hands of the US military. Mishima despaired at the westernisation of Japan and longed for a return to nobler times. He was perhaps the only writer of his day who was capable enough to write kabuki plays in the traditional style. He was excused military service during the war and the guilt of this plagued him throughout his life. He took up bodybuilding and martial arts and liked to pose in photographs depicting his violent end. With life imitating art, he committed ritual suicide together with members of his fanatical private army after failing to create a revolt by the military.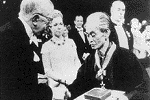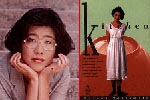 Left to right: Kawabata receives the Nobel Prize for Literature; Mishima Yukio; Yoshimoto Banana and the cover of her book Kitchen.
In 1994, Oe Kenzaburo (1935- ) became Japan's second literary Nobel recipient. Representative of his works are Kojinteki na Taiken (A Personal Matter, 1963) and Manen Gannen no Futtoboru (The Silent Cry, 1967). Both novels dealt with the theme of being the father of a brain-damaged child, which Oe knew about from experience. In his novels, Oe creates a world rich in poetry and imaginative power, where reality and myth are inextricably intertwined. He also wrote about the polarity felt by 20th century Japanese between their own culture and the outside world. More recently he wrote Tsugaeri (1999) based on the 1995 sarin gas attack by a religious cult on a Tokyo subway that killed 12 people.
Among the most popular authors in recent years are Murakami Haruki, Murakami Ryu (no relation) and Yoshimoto Banana, all of whom are known for their harsh insights into modern Japanese society. Murakami Haruki (1949- ) is perhaps the most read outside Japan. The novels Noruwei no Mori (Norwegian Wood, 1987) and Hitsuji o Meguru Bouken (A Wild Sheep Chase, 1989) are among his best known.
Murakami Ryu (1952- ) won the Akutagawa Prize in 1976 for his novel Kagirinaku Toumeini Chikai Buruu (Almost Transparent Blue, 1976). Other works include Coin Locker Babies (1980) and Topaz (Tokyo Decadence, 1988). He often appears on TV and writes in magazines discussing the current state of Japan and its youth.
Yoshimoto (1964- ) is usually either loved or hated by readers. Her dark novels have dealt with themes such as death, incest and lesbianism. Her first breakthrough came with the 1987 novella Kitchen, still her best known book.
---
Some other pages you might enjoy:
Additionally you can get literature review writing help by hiring professional writers on WriteMyPaperHub who will write a literature review for you.