Fall Foliage near Kinosaki Onsen
Japan has something to offer the visitor at any time of year, but the ideal times to visit are spring, when the cherry blossoms are in bloom, or autumn, when the brightly colored foliage of various species like Japanese maple and gingko fall foliage create stunning landscapes. The area surrounding Kinosaki Onsen (Toyooka City, Hyogo Prefecture) is an ideal place to take in these sights. (Though technically part of Toyooka since the merging of municipalities in 2005, we refer to Kinosaki, Tanto and Izushi as "towns.")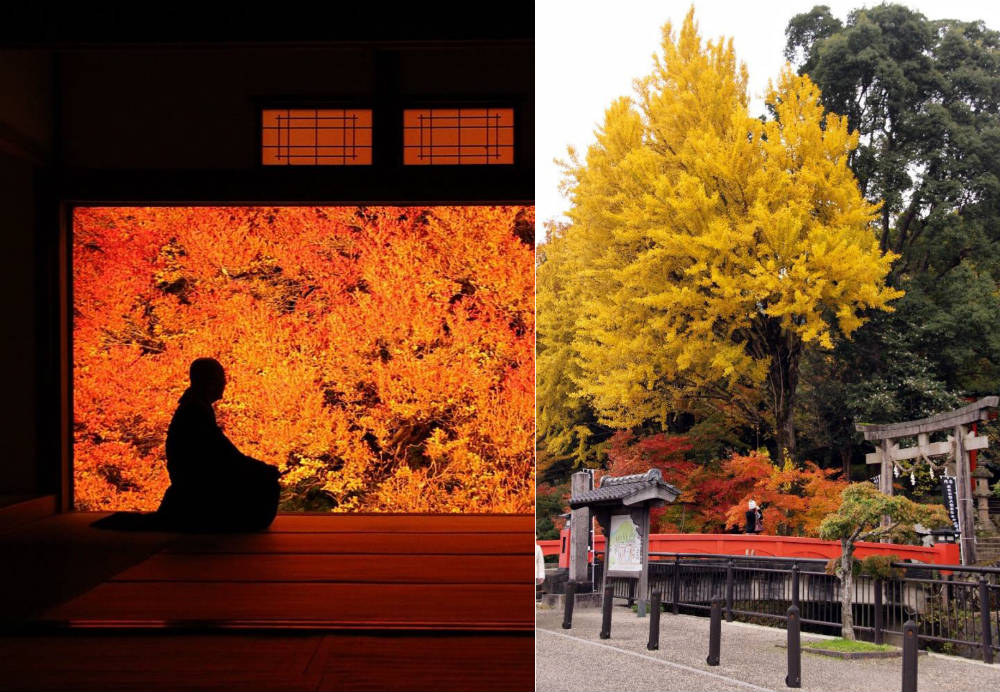 Autumnal colors at Ankokuji in Tanto
The countryside town of Tanto is home to Ankokuji, a beautiful Zen Buddhist temple with a known history dating back as far as 1345 and backed by brilliant red leaves in the fall. It is part of the Haitoku-ji branch of the Rinzai School, which is one of the three Zen sects of Buddhism in Japan. The original temple burned down in a large fire in 1717, but was later rebuilt as the current building.
Ankokuji Temple is most famous for the 100-year-old Dodan-Tsutsuji (Enkianthus perultas) trees that were planted in the back of the temple when the temple's present main hall was reconstructed in 1904.
In autumn, usually around the middle of November, these trees become a vibrant red, making the view from the main temple like viewing a living painting. It is truly a one-of-a-kind sight that you do not want to miss. Visitors take turns posing in front of the tree and taking pictures. It is best to arrive before the sun starts to set. This temple is best reached by car, which you can most easily rent in Kinosaki.

Izushi is known for its torii gates, castle ruins and clock tower
Izushi is a castle town that is popular for its nostalgic atmosphere of old Japan. Only ruins of the original castle remain on top of Mt. Ariko. Due to its inaccessibility, it was moved down the mountain by the ruling family in 1604. Together with the town's shops, homes, and other buildings, it helps preserve Izushi's original charm as well as forming the heart of the community and rural life.
One great example of this are the torii gates that lead up to the castle ruins. These torii gates line the steps leading to the ruins and Arikoyama Shrine, creating a tunnel effect similar to its more famous cousin at Fushimi Inari Taisha in Kyoto. This is why Izushi is known as the Little Kyoto of Tajima (northern Hyogo Prefecture), but it comes without the Kyoto tourist crowds!
Autumn is one of the best times to visit because the fall foliage brings out the brilliant vermilion of the torii gates. The foliage comes from dozens of momiji, Japanese maple trees, that grow amongst the 37 torii gates. The dramatic and very photogenic sight is a beautiful reminder of the changing of the seasons.
The symbol of the town is actually a clock tower built on part of the imposing stone outer wall of the castle. Built in 1871 during the Meiji Era, the wooden Shinkoro Clock Tower was originally part of the castle's system of gates, and it remains fully functional.
Izushi can be accessed by bus from Toyooka Station. From Kinosaki Onsen Station, it's about 15 minutes by train to Toyooka Station, where you switch to a bus headed for Izushi.
---
Related content