The Surprising History of Hanafuda
When asked about some of the most popular card games in history, very few people would think to say Hanafuda. But the Japanese classic card game that paved the way for Mario, Pokémon, and Zelda is actually an artefact of modern history. Card games in Japan enjoyed similar levels of popularity to modern-day anime. Throughout time, card games have inspired and led to bigger and better things, have been repurposed for a new audience, and have found a new niche with increasing technology. But what exactly is Hanafuda and how can we give it credit for changing the way we interact with games?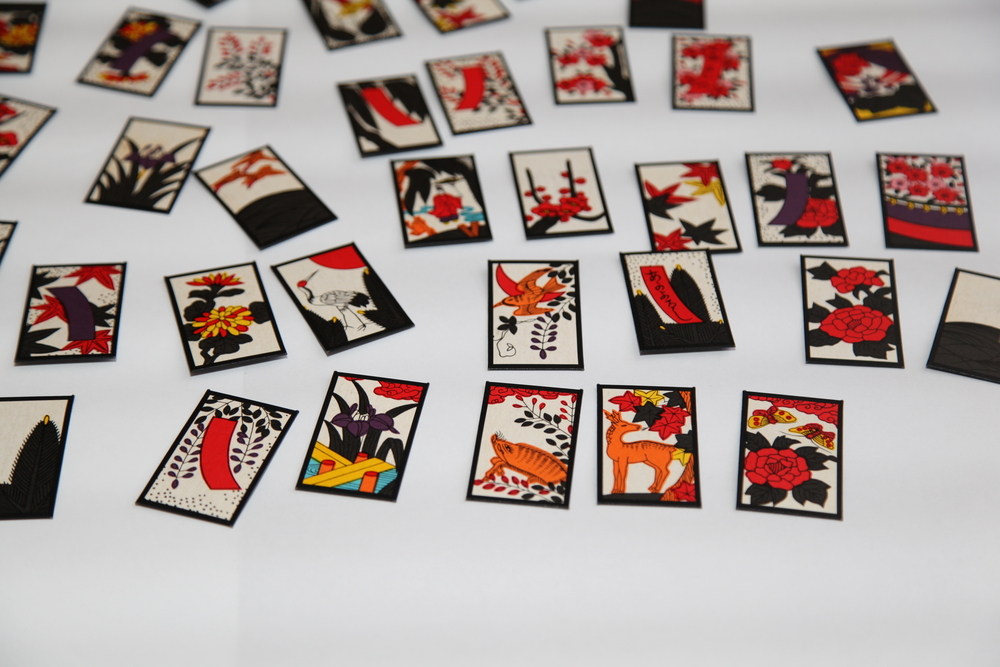 Hanafuda's colorful designs formed the basis of a variety of different games
How Did Hanafuda Begin?
Hanafuda – or flower cards in Japanese – are a deck of playing cards that can be used for a variety of games. Card games were brought to Japan with the French missionary Francis Xavier in 1549, leading to an upsurge in their popularity. Subsequently, foreign card games were banned in 1633. Despite this, the trend still remained popular.
As playing card games themselves were not banned, this led to the creation of a deck of cards that could flaunt the rules and get around the prohibition. A deck featuring Chinese warriors, armour and weaponry was invented, but the 75-card strong pack became too cumbersome for many to try to learn the rules. Still, every time a pack became popular, the government banned it and a completely new set of cards was created.
It was mainly the numbered cards that were banned, so packs were created that assigned certain numeric values to combinations of images. This continued from the 1700s onwards until the government realised it was fighting a losing battle and people would always find a way to play cards. So, Hanafuda was invented to combine the numbered playing cards with traditional Japanese designs and gameplay.
The games continued for several decades longer, but eventually lost some of the popularity that they had enjoyed when playing had been seen as taboo. The excitement of thwarting those killjoys who tried to temper their card games was probably as much an incentive to creating a new game that could be played. But eventually, one company decided to form and take advantage of the trend of such card games: Nintendo.
Just received these really fun Hanafuda from @Heroku (thank you!!) designed by @lynnandtonic. pic.twitter.com/2Mcmr14l4p

— Louie Mantia, Jr. (@Mantia) November 27, 2019
Success on the Cards for Nintendo
Nintendo, to the amazement of many people today, was formed in 1889. The exciting thing about Hanafuda is that, as there are no numbers on the cards, they can be used for a variety of games. Nintendo creator Fusajiro Yamauchi understood this and helped card games become popular in Japan again by printing the designs onto Mulberry tree bark. Most people don't know this about Nintendo and instead would think only of Pokémon, Mario, and Zelda.
In fact, the success from the early Hanafuda boom meant that Nintendo owns two of the ten most profitable franchises of all time (Pokémon taking the top spot worth around $92 billion and Mario at ninth worth $36 billion). Nintendo has successfully used its business savvy to tap into what audiences are wanting to engage with at every stage of their development.
One of the most striking characteristics of Nintendo's business model can be seen through the development of the Pokémon franchise. The games – launched in 1995 – have spanned more than 10 different consoles across 14 years. Fans have updated their consoles in order to maintain their connection to the franchise, turning into loyal customers who spend their money with the company.
Mario is much the same, and to a lesser extent so is Zelda. The fact that these franchises are able to command such loyalty as they grow and provide critical and commercially successful games is testament to Nintendo's successful business model. The games move with the technology available and help pioneer new technologies going forward. Pokémon Go was the first example of using AR tech on such a large scale in mobile gaming. Other franchises are following suit – such as Harry Potter, The Walking Dead, and Stranger Things.

Nintendo remains popular with its latest console, the Switch
Hanafuda's Lasting Legacy
Once we're aware of Hanafuda and its exciting history, we can begin to see a likely connection with the games we're more familiar with today. Take blackjack, for example. While blackjack does use numbered cards, it uses them to create additional meaning in the quest to achieve a value of 21 that surpasses that of your opponents and the dealer - not forgetting the specific (and adaptable) roles of the face cards.
As we've seen, Hanafuda was invented as a way of playing similar games during a time when they were banned. Blackjack, an American version of the game first notarised by Cervantes in a short story about characters who played veintiuna (twenty-one in Spanish), was invented back in the early 1600s. It's therefore likely that it was played before then, allowing us to surmise it featured somewhere in the Hanafuda story. The tradition – and most of the gameplay – has remained the same ever since.
The advent of digital technology not only helped blackjack continue to thrive but changed the way we look at it. The classic tabletop card game was reimagined with the dawn of online casino. The game translated well online and enjoyed many variants, some making it more difficult for the player, others requiring more strategic thinking in order to beat opponents. We can see from the list of 888 casino games that there are many other variants and that they take a reliance on technology to the next level, incorporating live-streamed gameplay into blackjack.
Live blackjack involves a dealer that you can see dealing live, while you are able to respond to the cards you are dealt. This gives an added element to the gameplay and shows just how live technology can benefit online casino games. By incorporating a classic that has been played for hundreds of years with brand new technology, the fusion can create a gaming experience that keeps players coming back for more.
Hanafuda might not be played as much now, but its legacy will remain important. Not only did Hanafuda gift us with Nintendo and everything that spawned from that, but it showed us the power of simple designs and games that can be played. Our love of playing games supersedes all and we will find a way to circumvent barriers in our way.
Gaming might be done less on tabletops now and more online, but that only adds to the legacy of such longstanding gaming traditions as Hanafuda and blackjack. No doubt the games will continue to prosper in the future.
---
Related content