All About the Gaming Culture of Japan
The gaming culture in Japan is truly epic. This country is home to some of the most passionate developers and players. Standing as the world's third-biggest market for gaming after the US and China, it is clear that the Japanese have an amazing appetite for gaming.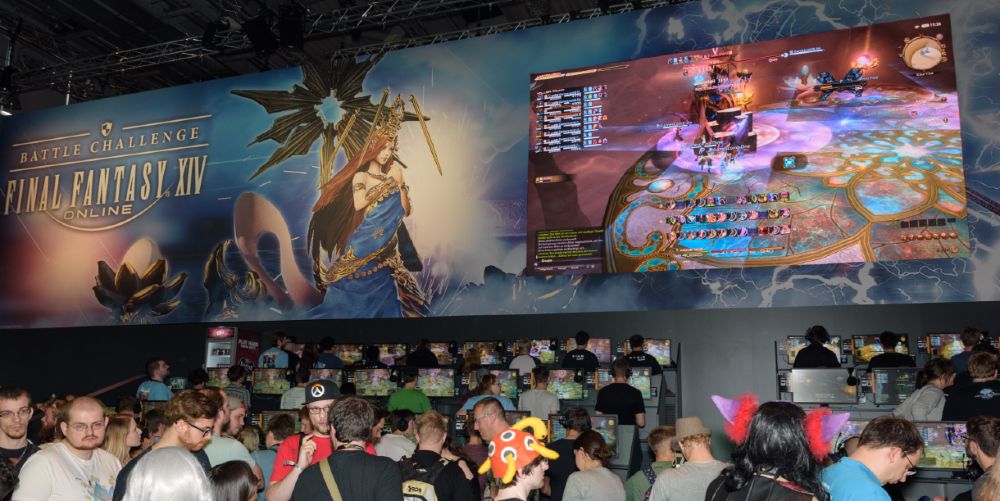 Final Fantasy, from Square Enix, attracts thousands of fans to events like this one in Germany.
Top Developers and Classic Games
Some of the biggest gaming franchises in the history of gaming have emerged from Japan. Originally founded as a manufacturer of playing cards, Nintendo is arguably one of the most popular and successful gaming companies of all time. Even if you do not consider yourself to be even a casual gamer, there is a strong chance that you will recognise some of their titles or the most iconic characters to come from them.
Characters like Mario and Donkey Kong have become household names. However, there are also plenty of other franchises that have come from this country. One such incredibly popular franchise that gamers love is the Final Fantasy series from Square Enix, which has been releasing games since 1987.
Hideo Kojima has proved to be one of the leading voices in the industry worldwide, with games like the Metal Gear series and Death Standing amongst his most notable titles. He is just one of many hard-working developers proving that Japan is at the top of the heap when it comes to new games.
Player Attitudes
The Japanese love to play games of all sorts. Head anywhere in Japan and you will find a game called Pachinko. This is a fun mechanical game that resembles a vertical pinball machine. Players try to collect as many balls that drop through the game as possible. These can then be exchanged for prizes. Pachinko parlours have taken the role you will often find occupied by slots in the Western world.
As a whole, many individuals in Japan take part in gaming regularly in some way. In addition to the pachinko players, you will often find that many young Japanese people enjoy computer gaming in some way. In 2018, it was estimated that there were 67.6 million players throughout the country - that's more than 50% of the population! Gaming is currently enjoying a renaissance and there is a wide variety of titles to choose from across all sorts of consoles.
Esports events, like this Street Fighter V match in Las Vegas, have yet to really take off in Japan.
Breaking the Esports Market
One
gaming market
where the Japanese appear to be trailing a little is the esports market. With the massive interest coming out of neighbouring countries like South Korea and China, and with the inherent love of video games, it is actually surprising to not see Japan as high up in the tables as one would expect. Although Japan has the third-largest gaming industry in the world, esports accounts for less than 0.3% of its revenue.
This could soon be changing. With the massive worldwide interest in gaming, the Japanese government is looking to break into this industry. By 2025, they are hoping to be pulling in a revenue of $2.6 billion from esports. This will involve setting up new tournaments, boosting local economies, and setting in place new guidelines for tournaments and events. This level of investment could turn Japan into one of the premier destinations for esports worldwide.
It is clear that the Japanese love gaming and everything it has to offer the world. Viewing Japan through this lens is incredibly interesting and it gives an insight into this proud country and how it operates in the modern era. Some of the finest talent in video gaming design is growing in Japan. If you are at all interested in video games, taking a look at the market here should give you some fresh understanding of the industry.
---
Related content