The Importance of Kitchen Stove Safety in Japan
Japan is renowned for its frequent earthquake activity. While its buildings have been constructed to prevent collapse during a tremor, fire is still a major concern. The kitchen stove is a particular fire hazard during an earthquake. So, understanding the function of the stove and what to do during an earthquake is essential. Here, we'll look at how Japan is tackling the fire risk in homes with the use of high-tech stoves.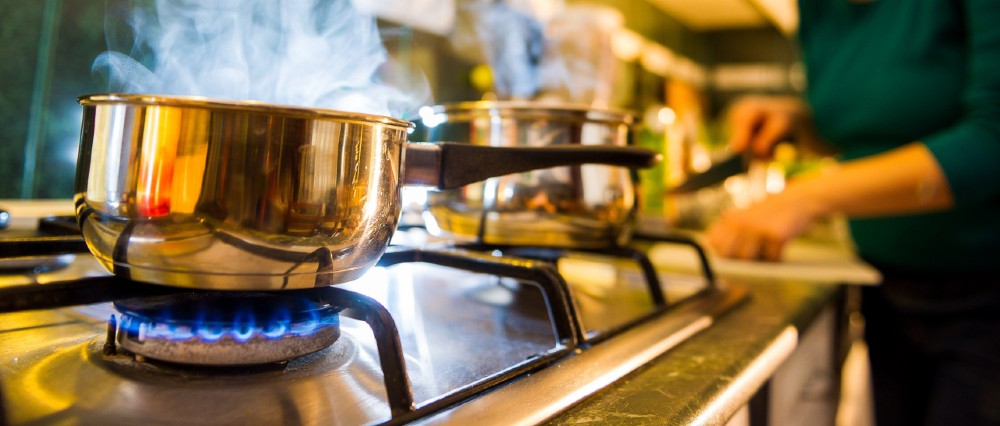 Gas stoves remain popular across Japan
The Si Sensor Konro
In order to reduce the fire risk in homes caused by earthquakes, a new Si Sensor Konro has been developed. This exciting new stove comes packed full of impressive safety features such as oil overheating prevention, forgotten flame extinguisher and an extinguishing safety device.
Both public and private sectors in Japan have been working on improving kitchen safety since 1979. This was when accidents involving consumers of LP gas reached their peak at 793 cases. Since then, safety improvements in the sector have drastically reduced the number of gas-related accidents.
The oil overheating prevention function in the new stove prevents fires from deep- frying. It can also help to prevent fires from empty pots that have been left on the burner. If the bottom of the pot becomes unusually hot, a sensor will automatically switch it off.
The forgotten flame extinguisher feature also shuts the stove off after a certain period of time. This is great for those who forget to switch the stove off after use. Then finally, the extinguishing safety device shuts off the stove if the flame is distinguished. This could be caused by overflowing liquids or strong gusts of wind. In the Extinguishing safety device feature, it utilises thermocouples. These can be seen in the stoves design and they help to greatly improve its safety. It is important to keep an eye on them and replace the thermocouples when needed.
How earthquakes increase fire risk
There have been studies carried out to determine the fire risk of buildings after an earthquake. As well as stove-related fire risks, damage caused to structural elements, elevators and stairways can also be hazardous.
After a quake, doors may become jammed and unable to be opened, access to other floors can be cut off and damage to the interior and exterior walls leave gaps which encourage the fire to spread.
What studies have shown is that having sprinkler systems, fire dampers and heat- activated fire doors can greatly reduce the risks.
General home safety tips to follow in an earthquake
The introduction of the new Si Sensor Konro in Japan has drastically reduced the risk of fire during an earthquake. However, it is important for those residing in the country to take other necessary precautions.
There is a useful safety checklist you can refer to in order to get your home earthquake ready. This includes:
Ensuring exits are clear
Placing and securing artwork and mirrors correctly on the walls
Securing doors and cabinets
Stabilising your electronics
These are just some of the top safety tips you can follow. Ensuring exits are clear is extremely important in case of a fire. You could also equip the home with fire extinguisher products. Experts also recommend putting together an emergency kit so you have everything you need ready to go at a moment's notice.
By taking precautionary measures like the ones mentioned above, it can greatly decrease the risk of fire. While Japan's buildings are built to withstand earthquakes, the risk of fire still needs to be addressed. The latest Si Sensor Konro stove is a great investment for those living in earthquake-prone areas. Planning ahead can literally make the difference between life and death.
---
Related content