Tokyo's Metro System is the Best in the World — Here's Why
Japan is famous for being at the forefront of technological innovations. Many of its biggest brands are tech companies, including Sony, Fujitsu, Hitachi, NEC, and Softbank, most of whom export to and invest in just about every part of the rest of the world.
One of the most famous technical innovations from the Land of the Rising Sun is the bullet train (known locally as Shinkansen). Built originally to provide a high-speed connection between Tokyo and the country's furthest regions, it has grown into a network of more than 1,700 miles of track that can carry passengers at speeds of almost 200 mph.
The network of Shinkansen lines that stretch from either end of the Japanese mainland isn't the only impressive railway system in the country. Another is the mass transit metro system in the nation's capital.
Though it often gets very crowded, Tokyo's metro system is efficient and clean.
Tokyo's Subway — The Best in the World
On the surface, Tokyo is like many other major cities around the world, with a large population that needs to get from home to work and back again every day. If everyone commuted by car, there'd be bedlam on the streets as roads became gridlocked and people crawled to their offices at a snail's pace.
Like other large population centers, Tokyo built a metropolitan railway that crisscrosses the city to provide a fast and efficient way for everyone to get around.
Tokyo's subway, which is actually made up of two separate but integrated networks (the Tokyo Metro and Toei Subway), is the world's best and most efficient. It moves the equivalent of half the global population around the city each year, yet is smaller and has fewer stations than the metro systems in London, New York and Seoul.
Always Future-Proofing
One of the reasons the city's mass transit network is so efficient is because it's nearly always being expanded. The first line began operating in December 1927 and was extended over the next couple of decades. Then in 1951, works began to construct the second line. Since then, some form of line extension or new line construction works have been almost constantly taking place, right through to today.
Having a network that is almost always in a state of expansion ensures that it can always handle ever-growing passenger numbers. This is useful in a city like Tokyo that attracts around 15 million tourists every year and where the local government has set a target to more than double this to 40 million.
To achieve this ambitious goal, a lot of investment is required. This is why Tokyo won the bid to host the 2020 Olympic Games, the world's biggest sporting event that attracts millions of spectators and sees images of the city broadcast into the homes of more than a billion people. Beyond this, the Japanese capital is expecting to open its first casinos in the coming years. The move will put Japan on par with other countries in the region like Korea that already host major events like the APPT and Singapore and Macau that have become popular destinations for casino fans.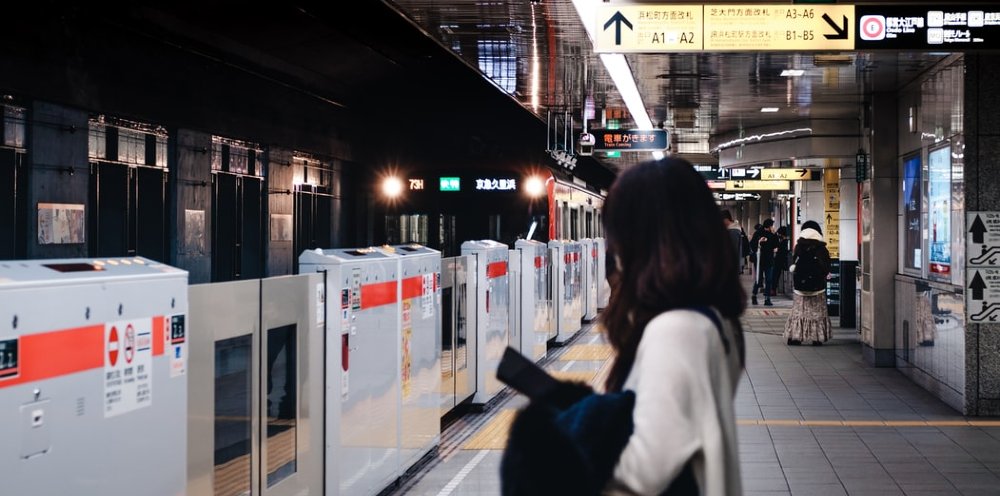 Safety doors that only open when a train has stopped are a recent innovation in Tokyo.
A Different Design
To afford this continual construction and achieve the network's higher levels of efficiency, the Tokyo subway system has been designed differently to all other cities. Whereas in London, Moscow, New York, and elsewhere in the world, intercity services terminate at the outskirts of the city, forcing passengers to switch to connecting metro trains, Tokyo's intercity and suburban trains can run through the subway stations.
This means less congestion at interchange stations, fewer passenger connections, and a faster service for those looking to reach the opposite end of the city from other parts of the country.
The private rail companies that use the subway network also pay a fee to be able to run their rolling stock on the subway tracks, providing a consistent source of revenue for the two metro operating companies.
With this extra income, they're able to fund more expansions, knowing they'll be partly paid for before a single ticket is sold.
Better Experience
Riding on mass transit networks can be an unpleasant experience, especially during rush hour and hot weather. However, the efficient designs that lead to less congestion and less train-swapping lead to a better ride experience in Tokyo.
This isn't the only reason a journey in the Japanese capital is more enjoyable though. The country's culture is very respectful of rules, meaning the signs that request passengers talk quietly, refrain from eating, and form orderly lines when they board are almost universally observed.
Compared to other cities, where you'll routinely find discarded food wrappers, people talking loudly on phones, and pushing and shoving, riding the Tokyo subway is likely to be much better for your blood pressure.
Overall, good planning and foresight, ingenious monetisation methods, and a culture that respects rules mean Tokyo's metropolitan railway network is the most efficient and most enjoyable in the world.
---
Related content