All you Need to Know about Japan's Lottery Game Culture
May 2021
You might be surprised to find that the Japanese lottery scene is very much alive and kicking. Those familiar with Chapter 23 of Japan's Criminal Code will attest to the fact that most forms of gambling remain prohibited nationwide. Some of those exceptions include horse racing, football pools, and, luckily, lotteries. Locals and tourists alike can get involved with the state lotteries, which derive an important income for the Japanese government at a local and national level. Most recently, it's provided funding for the upcoming Tokyo Olympic Games.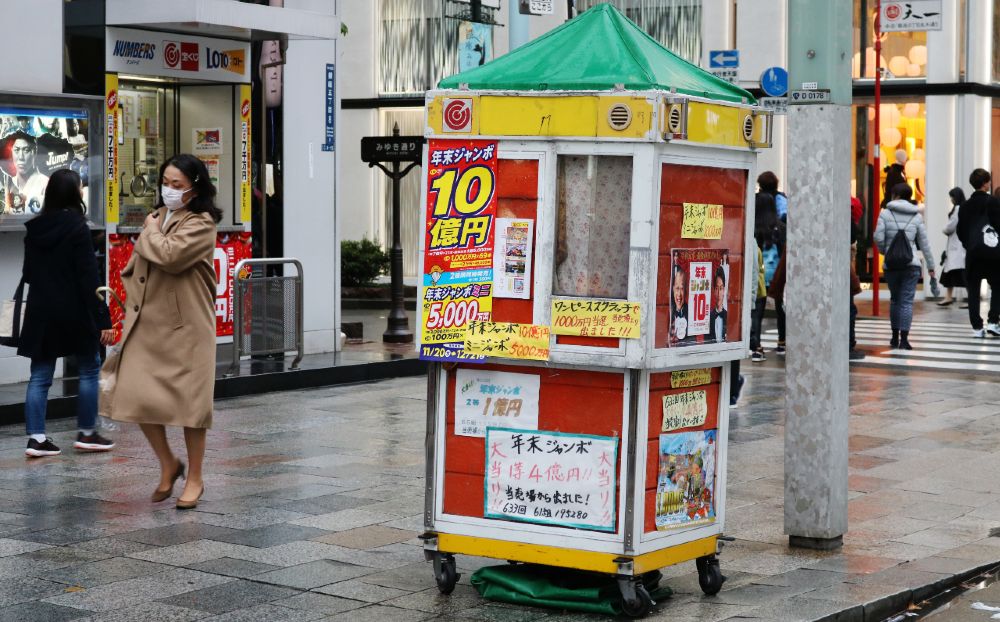 Takarakuji booths, some as tiny as this one, are found across Japan (yes, there's someone inside!).
As a matter of fact, the Japanese have been operating lotteries for several centuries. Their lottery culture dates back as far as the 1400s, when temples and shrines would operate lotteries to cover the costs of repairs and periodic maintenance to their buildings. In generations gone by, lottery winners would be awarded with an amulet that symbolized wealth and happiness. Fast forward to the present day and the sheer scale of prizes are on another planet. Let's take a quick look at the most popular Japanese lottery games available to all today.
Numbers 3 and Numbers 4
Numbers 3 and Numbers 4 games are two of the most common daily lottery games available in Japan. Players are required to pick either three or four numbers between one and nine, placing them in preferred order. One ticket costs approximately 200 yen. The smallest prizes are awarded for those guessing two numbers correctly, regardless of whether they were in the right order. The highest payouts are reserved for those who guess all three or four numbers in the right order.
Lotto 6
Lotto 6 is a biweekly lotto game in Japan, drawn on Thursdays and Mondays. Like Numbers 3 and Numbers 4 tickets, Lotto 6 tickets cost just 200 yen to play. Players must select seven numbers (six including a bonus number) between one and 43. Correctly predict all seven numbers to win monster payouts. Lotto 6 winners have been known to bag upwards of one billion yen!
Lotto 7
Lotto 7 differs from Lotto 6 in that players choose between one and 37 numbers rather than 43. In addition, Lotto 7 requires players to predict no less than nine numbers (including two bonus numbers). Prizes start from correctly guessing three of the seven numbers and one of their bonus numbers.
Mini Lotto
Launched on the eve of the new millennium, Japan's Mini Lotto is a weekly game drawn each Tuesday. Players must pick six numbers (including one bonus number) between numbers one and 31.
A Nenmatsu Jumbo Takarakuji ticket. Does it make you feel lucky?!
Nenmatsu Jumbo Takarakuji
This is the Japanese name for one of the country's most eagerly awaited lotteries, the 'Year-End Jumbo Lottery'. It is only drawn once a year, usually on the night before New Year's Day. It's the largest lottery game in all of Asia.
---
There are alternative avenues for lotto players in Japan, too. It's possible to wager on the outcome of lotteries overseas. Sites like Lottoland welcome Japan-based customers who can attempt to correctly predict the winning numbers of any major overseas lottery, including the UK National Lottery and the EuroMillions. The platform is now operational in 11 countries, including Japan. New users can also receive matched deposit bonuses worth up to 10,000 yen to spend on various weekly and biweekly lotteries abroad.
Which Japanese lottery offers the best chance of winning?
If you are intrigued as to which lotto game gives you the best opportunity of landing a payout, check out the Mini Lotto. With the requirement of picking just five numbers, plus a bonus number, the odds of winning are one-in-169,911 compared with more than one-in-10.2 million in the Lotto 7.
You'll also be pleased to know that any winnings derived from Japan's lotteries are tax-free income. However, gift tax is applied on transfers worth more than 1.1 million yen between family and friends.
---
Related content