Japan Travel in a Few Words
September 2021
Our planet is filled with many fascinating and unique locations. Travelers have, however, to be curious if they want to discover them. They might be far away from your home, but traveling to distant places always pays off. It offers you a chance to experience another culture and explore places of exceptional natural beauty.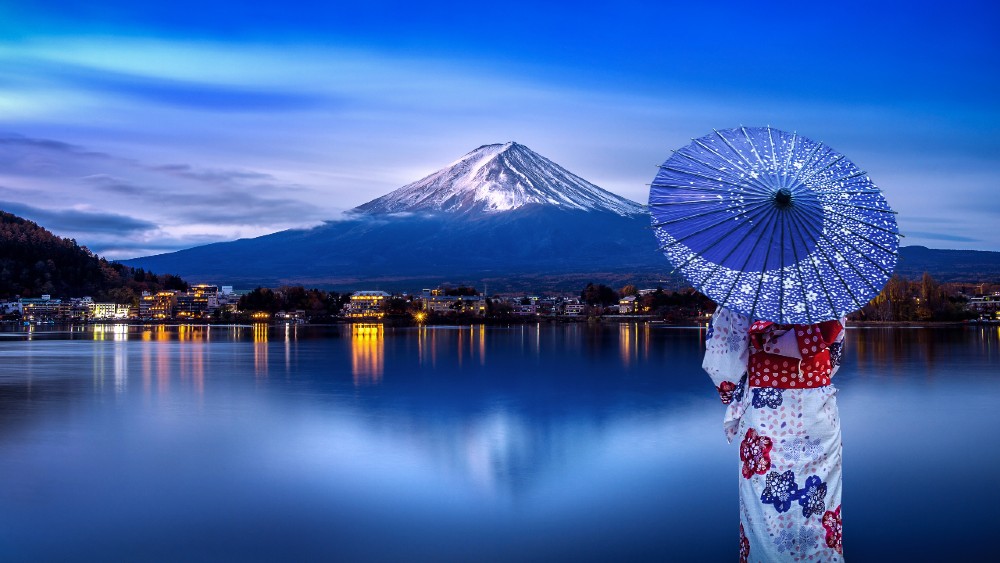 Mt. Fuji and the traditional kimono are two of the instantly recognizable images of Japan.
Japan is no different, and is one of the world's truly extraordinary tourist destinations. It's pretty far from the United States, but don't let the long journey put you off because you will certainly have an experience that makes it well worth the effort.
Japan is a group of four main islands, and hundreds of smaller ones, located in the most easterly part of Asia. As a travel destination, it is full of interesting and amazing locations. Japan is a densely populated country, with approximately 130 million permanent residents. Area-wise, it's pretty small, especially considering the large population, and this has led to the development of large, heavily populated cities.
Tokyo - One of the World's Top Travel Destinations
Tokyo is, of course, the capital city of Japan, with approximately 14 million citizens. In fact, it is one of the biggest metropolises in the world. It is also home to many excellent and touristic locations, from the futuristic & modern to the beautiful and natural.
A short list would include Tokyo Tower, Tokyo Skytree, the urban centers of Shinjuku, Shibuya and Ginza, historical sites like Sensoji temple and the Imperial Palace, as well as quieter spots like Shinjuku Gyoen National Garden and Ueno Park. Tokyo is usually the first destination for most foreign travelers. The biggest airports are reasonably handy for the city, and the starting point of numerous journeys. Still, Tokyo is just the beginning of the story of this beautiful country.
Other Great Tourist Locations
Other popular tourist destinations include the ancient capitals of Kyoto and Nara with their many temples and shrines, cities with a more tragic past in Hiroshima and Nagasaki, cities famous for food and festivals such as Osaka and Fukuoka. Travelers also usually want to get out of the cities and explore the Island Shrine of Itsukushima, the incredibly scenic Japanese Alps and Chūbu-Sangaku National Park or the northern island of Hokkaido with its amazing skiing and colorful summer landscapes.
For lots more information about sightseeing around Japan, organized by region, Japan Zone offers a comprehensive guide.
Architecture, Cuisine, Culture, and Traditions
Though it's becoming increasingly difficult to find amidst all the modern buildings of urban centers, traditional architecture in Japan is quite different to what you'll see in the West. That's why many historical buildings have unique designs with very distinctive features.
Japan also prides itself on its unique culture and cuisine. There are certain of Tokyo or Kyoto, for example, where you're likely to see ladies scurrying to work in elaborate kimono and geta sandals. Many tourist destinations will offer the chance to experience such cultural highlights as the tea ceremony or koto music. The nation a variety of customs based on Buddhism, the native religion of Shinto, and samurai traditions. Many of these cultural aspects are best seen in the country's thousands of festivals, both massive and local.
Japanese people love their food and restaurants offer a huge variety of cuisines, both traditional and "imported" from around the world. Most travelers are very glad to have explored that side of the country and to have found that there is far more on offer than just noodles and sushi. That said, the seafood is often incredible! The sea provides many of the common ingredients in all sorts of dishes. It is an island countryafter all, and one that has relied on the sea to provide food resources for many centuries.
How to Travel to Japan
Citizens of the United States, United Kingdom, Australia, New Zealand, Singapore, and many other European countries do not even need a travel visa for Japan. That means they can enter the country with just a valid passport.
So, if you're one of those nationalities, Japan definitely offers an excellent opportunity for the holiday of a lifetime, and you don't even have to deal with the hassle of visas or such legal procedures. Others, however, must apply - but Japan is always an adventure that's worth the effort!
---
Related content