The World of Horse Racing
April 12 2022
There are only a few countries around the world that are synonymous with horse racing, usually because of major races that have become part of the international sporting calendar. Although horses have played an important role in Japanese culture for centuries, the sport of racing horses is a relatively new introduction. So how does keiba, as it is called in Japanese, fit in on the global scale?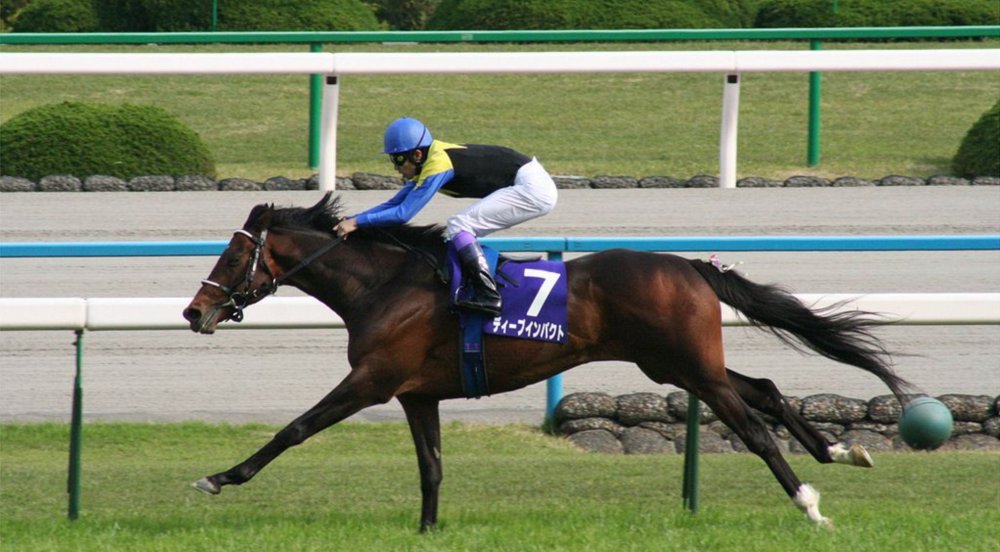 The legendary 2005 Japanese Triple Crown winner Deep Impact.
Goki, CC BY-SA 3.0 , via Wikimedia Commons
Horse racing, as described by Wikipedia, is "an equestrian performance sport, typically involving two or more horses ridden by jockeys (or sometimes driven without riders) over a set distance, for competition. It is one of the most ancient of all sports, as its basic premise – to identify which of two or more horses is the fastest over a set course or distance – has been unchanged since at least classical antiquity."
Sport involving horses was very much part of the culture of ancient Greece and Rome. Anyone who's ever seen the Hollywood classic movie Ben Hur can't help but think of its famous chariot race scenes. But the horse racing that we know today really has its roots in 18th century Britain, where it became know as the Sport of Kings, an elite image it has retained to this day.
The Jockey Club was formed in England in 1750 and the five classic races that are at the core of flat racing were created between 1776 and 1814. One of them is the Epsom Derby, first run in 1780 and named after the 12th Earl of Derby, and it has since lent its name to major races around the world, including the U.S. Kentucky Derby and the Japanese Derby.
While there are also such formats as harness racing and long-distance endurance racing, most people's image of horse racing is based on either flat racing or jump racing, also known as Steeplechasing or National Hunt racing. In western Europe, particularly in the UK and Ireland, the major jump racing events are the Cheltenham Festival and the Grand National. The latter has long been such a major cultural event that even people who usually have no interest in the sport will place a bet. Any list of the most prestigious flat races in the world has to include the Prix de l'Arc de Triomphe in France, Melbourne Cup in Australia, Japan Cup, Epsom Derby, Kentucky Derby and Dubai World Cup.
Horse racing was introduced to Asia mainly as a British colonial export in the late 18th and the 19th century. The Kobe Jockey Club was founded in western Japan in 1870, and today the sport is run by two organisations: the Japan Racing Association (JRA) run the big events at the country's ten major racetracks, while the National Association of Racing (NAR) run the multitude of smaller regional events. Events in Japan are mainly flat racing, but there is also some jump racing and a sled-pulling race known as Ban'ei (also called Draft Racing).
In 1906 the first betting tickets on horse racing in Japan were sold in Tokyo. The government tried to ban gambling on horses a couple of years later but the growing popularity of the sport, and betting as a crucial aspect of it, meant that the ban was short-lived. Today, Japanese keiba fans who want to take a punt online turn to websites such as https://www.スポーツベット24.com/日本の競馬ができるカジノ/.
The most prestigious event in the Japanese horse racing calendar is the Grade 1 Japan Cup, a 2.4km invitational turf race run every November at Tokyo Racecourse. With a purse of ¥624 million (about US$5 million), and a 2022 winner's purse of ¥400 million, it's one of the richest turf races in the world.
---
Related content