Japan's Greatest Gaming Franchises
November 10 2022
Japan is a country that is renowned for its expertise in video game innovation. The true birthplace of video games is now thought to have occurred in New Hampshire, USA, when Ralph Baer laid the foundations for the cultural phenomenon in the late 60's. Since then though, Japan has been at the absolute forefront of the evolution of gaming, consistently pushing the technology forward in fresh and exciting ways.
Pokemon Go was a huge and almost overnight global phenomenon in 2016.
In fact, sometimes their largest gaming companies' ideas have been so ahead of their time, that several of their products have been severely underappreciated, with a great example being when the world wasn't ready for the Sega Dreamcast.
With so much video game genius swirling around Japan throughout the years then, it will come as no real surprise to learn that some of the most cherished gaming franchises of all-time were dreamed up within its shores. Let's take a dive into some of the top examples, and take a closer look at some of Japan's greatest ever gaming franchises.
Pokémon
We could've solely filled this list with Nintendo titles, as the company that was founded in the city of Kyoto have been responsible for many of the biggest gaming franchises. They've got the heavy hitters of Super Mario, The Legend of Zelda, and Animal Crossing in their arsenal, but the one we've actually chosen is a series that has managed to capture the imagination of insane amounts of people worldwide.
Pokémon began life in 1996, with a pair of games that were released onto the first-generation Game Boy. These were originally named Pocket Monsters in Japan, and were developed by Game Freak, and then published by Nintendo. Renamed Pokémon when they reached a Western audience in 1998, the role-playing games quickly became a mammoth cultural smash-hit, with there being a wide range of super popular media launched on the back of them.
Resident Evil
Another of Japan's cultural specialities is its ability to make some of the most terrifying horror movies in cinematic history. Films like 1998's Ringu and 2002's Ju-On: The Grudge have scared legions of scream fanatics brave enough to watch them. So, when you get a Japanese gaming franchise that has horror elements, you better believe it's going to be especially haunting. That's true of Capcom's Resident Evil series, which has solidified itself as both one of the scariest gaming franchises, as well as one of the most monumental.
Known as Biohazard in Japan, the first ever game in the series debuted on the PS1 back in 1996, and was a hair-raising experience that had you frantically trying to survive a zombie outbreak in a creepy mansion. Since then there's been many fantastic releases in the franchise, with differing genres, including action-packed shooters such as Resident Evil 4 and even a virtual slot based on Resident Evil 6, made by The Skywind Group.
If you're wondering where to play this virtual slot, then you need to head over to Vegas Slots Online, as they have it, along with literally thousands of others. They cater to a wide-range of countries, including Canada, where they have all of the best Canadian real money casinos around. Each selection has all the top real money slots available to play for potentially huge pay-outs, as well as information on how each reviewed slot works, which will help improve your chances of winning.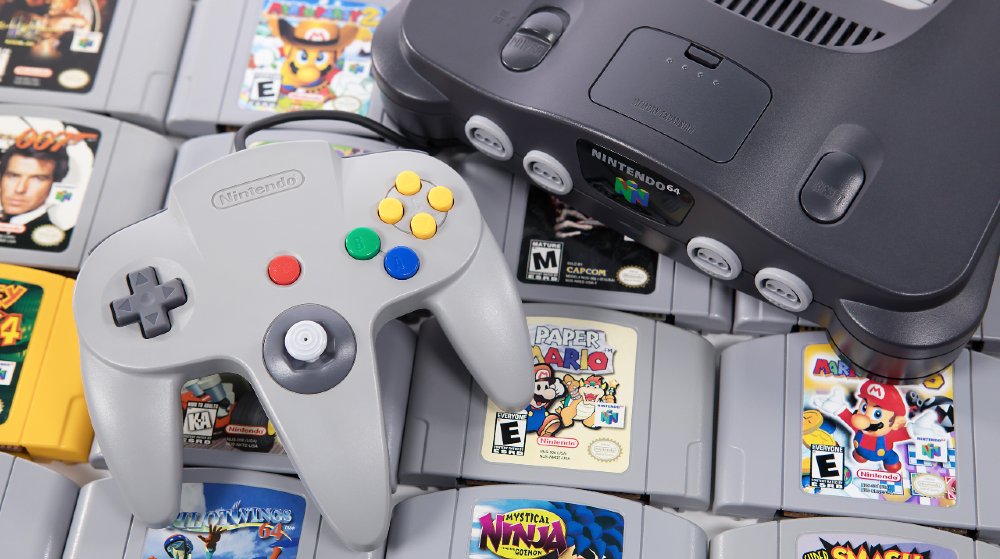 The Nintendo 64 game console was widely acclaimed on its release in 1996.
Final Fantasy
This franchise has been wowing gamers for 35 years now, and still shows no signs of slowing down. First appearing on the Nintendo Entertainment System back in 1987, and even with the technological limitations of the time, Final Fantasy blew players' minds with its immense fantasy world. The action RPG series has evolved into a real gaming tour de force, with its creators, Square Enix, masterfully able to oversee telling a deep and complex story over a succession of games all featuring on a variety of consoles.
There are now 15 main entries in the series, with the next game due out sometime in 2023, which has got millions of fans united in anticipation of getting to play out the next beautifully produced chapter. If you're looking for an entry point into the franchise, then you should check out the recent 2020 Final Fantasy VII Remake, which takes one of the highest points of the series, and updates it for the modern generation.
---
Related content