Gambling in Japan: It's Complicated
November 21 2022
The gaming culture in Japan is booming despite the fact that the majority of gambling activities are illegal under the law. However recent advances include Japan's approval of a law that makes Integrated Resorts legal. Japan recently approved a law that supports casinos but limits its application to just three regions. Since it is quite complicated, in this article we aim to explain everything you need to know about the Japanese gambling market in 2022.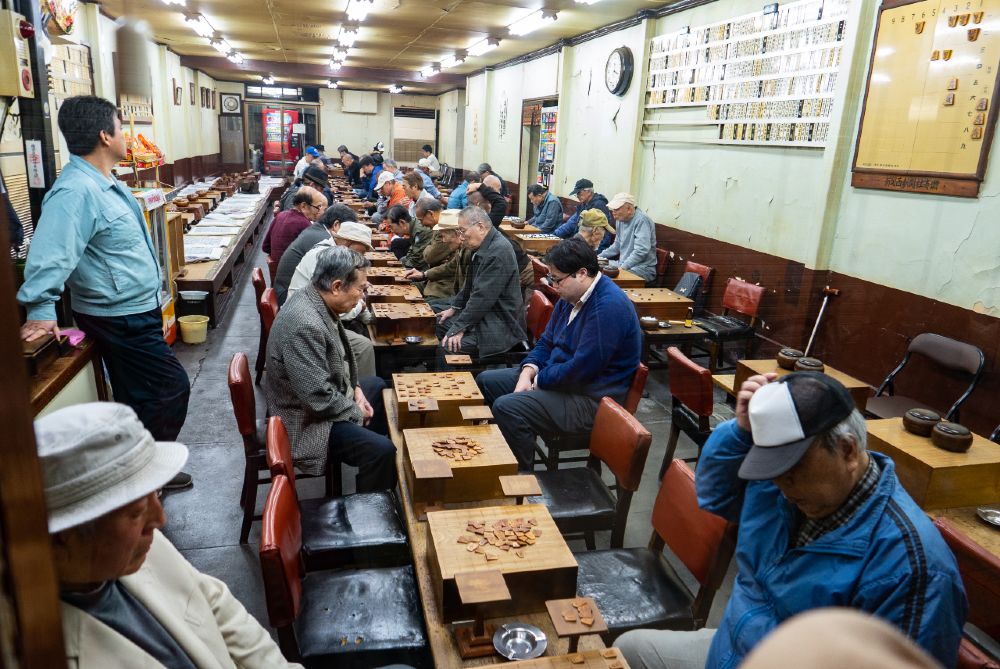 Japanese people playing Shogi or Japanese chess at Kuromon Ichiba Market in Osaka.
Japan Has a Difficult Relationship with Gambling
Countries all over the world are turning to legalized gambling in order to boost their economies, particularly in the post-pandemic period. Even in conservative countries, online bookmakers, land-based betting shops, and casinos in integrated resorts are now commonplace. Japan is also aware of betting enthusiasts among its population and has granted licenses to related businesses, allowing for a variety of gaming activities. Pachinko, horse racing, motorcycle racing, bicycle racing, powerboat racing, and lottery are the only legal sports.
All other forms of gambling, both online and offline, are illegal in Japan and are prohibited by Chapter 23, Article 185 of the Japanese Penal Code. The law is so strict that entering a gambling establishment or engaging in illegal activities can result in a ¥500,000 fine. Operating a gambling establishment is even worse because it can land you in jail for up to five years.
The current law refers to a 2006 Tokyo High Court ruling that prohibited any game involving chance, even if it required skill. As a result, betting on any game involving the slightest element of chance, including Japanese chess, is prohibited. The prohibition extends to casinos, which is why there are currently none in the country.
The Local Gambling Industry is Expanding Rapidly
Despite the prohibition, Japan's gambling industry is thriving as permitted gaming activities are becoming increasingly profitable. According to recent statistics, pachinko alone generates upwards of ¥16.03 trillion in revenue. As a result of the boom, Japan has become one of the world's largest gambling markets.
The Japanese people, and the law, are becoming increasingly accepting of gambling. Japan has been debating the gambling industry in depth since 2006. The political parties have been pushing for the legalization of casinos, and recent developments indicate a favorable attitude toward gambling. The Act for the Development of Specified Complex Tourist Facilities Areas was passed by Japan's Diet in 2018. The new legislation allows gambling in casinos within integrated resorts, implying that the gambling industry will flourish even more.
The Rise of Japanese Integrated Resorts
Integrated Resorts are jam-packed with action. For everything from shopping to entertainment, they make great weekend getaways. Large integrated resorts with enhanced amenities like art museums, casinos, hotels, upscale shopping locations, and other forms of entertainment are being built in nations all over the world. Interest in these tourist locations is sparked by the rising need for augmented entertainment and the need to revive tourism.
The Japanese government hopes that the integrated resorts will help the economy by attracting foreign investment, creating new jobs, and increasing tourism. As seen in Singapore, Las Vegas, and Malaysia, integrated resorts have a track record of stimulating economies. However, Japan's laws regarding the casino component of integrated resorts remain strict. The new law requires the establishment of integrated resorts in specific regions, primarily to aid in the monitoring of casino gambling. The three priority areas are currently Osaka, Wakayama, and Nagasaki.
Gambling will be permitted only in casinos that are part of Integrated Resorts (Complex Tourist Facilities Areas). Upon establishment, the casinos must meet a number of requirements. To begin, the law requires casinos to meet certain requirements, such as covering no more than 3% of the total Integrated Resorts floorspace. Second, only private licensed firms will operate casinos. In addition, operators will be required to renew their licenses every three years. Third, Japanese gamblers will be required to pay a ¥6,000 fee per year and will be limited to a certain number of visits to the casinos. This law, however, only applies to Japanese citizens, so foreigners are exempt.
Conclusion
The Japanese gaming market seems to be in a state of flux. Gambling is popular, but legal restrictions limit people's options. On the other hand, the approval of the Act for the Development of Specified Complex Tourist Facilities is a positive development and heralds a more welcoming future for gambling. Gambling is obviously popular in Japan, and the government is not likely to oppose the trend toward widespread legalization. It is safe to expect that Japan will soon have a larger and more legal casino business given the present developments.
---
Related content