Musicians
Amuro Namie
(Okinawa Prefecture, 1977- )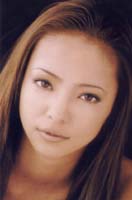 A quarter Italian on her mother's side, Amuro Namie had the kind of exotic look and a reasonably decent voice that made her a potential star. But driving ambition - her first performance was in a supermarket at the age of twelve - and teaming up with the right people also played a big part. Her success started something of a wave of starlets from Okinawa, including the hugely popular girl groups Max and Speed.
Amuro Namie's heyday was in the early 1990s but her nature - she is a determined and ambitious survivor - ensured that she lasted well past her "Sell By" date. A native of the southern island of Okinawa, she joined the Okinawa Actors School in her early teens. At the age of 15, together with four other girls, she was part of a group called Super Monkeys (perhaps because of Amuro's simian features!) with the Toshiba EMI label.
A move to Tokyo helped them build a solid fan base with their Eurobeat sound and stardom seemed to be on the horizon. After some moderate success with their first few singles, it was clear who the real star was. The group was renamed "Namie Amuro with Super Monkeys".
But it was only when Amuro went solo and switched to the Avex Trax label and the remaining four girls formed Max, that all five enjoyed real success. The 5'2" Amuro got a regular gig on the popular children's TV show PonkiKids. The fledgling Avex label went all out to make her a star and soon Amuro had become the biggest pop idol of her time. School girls copied her every move and fashion whim and called themselves "Amurah", and she was at least partly responsible for the whole "ganguro" (literally, cancer black) tanning boom.
A large part of Amuro's success was due to her being under the wing of Avex producer Komuro Tetsuya, a hugely influential figure in 90s J-Pop. With his guidance and influence, Amuro became the biggest music star of the latter half of the decade. Her hits have tended to follow a familiar Komuro pattern in that they use ridiculous or meaningless English in their titles. "Can You Celebrate" and "Chase the Chance" are bad enough but the worst has to be "Body Feels Exit".
In 1997, the three-months pregnant Amuro married Sam (Maruyama Masaharu), a dancer with Avex group TRF in the showbiz wedding of the year. The next spring, their baby son Haruto was born in a hospital run by Sam's father. Amuro took a break from the music business but, still being in her early twenties, motherhood couldn't match the appeal of superstardom. Shortly after resuming her career, she was stunned by the murder of her mother by her step-brother, who himself commited suicide. But she bounced back from that shock, too. With similar but not always parallel careers, Amuro and Sam eventually found themselves announcing their divorce in 2002. As he got custody of their son, rumors abounded of Amuro's disinterest in child-rearing and her overwhelming desire to get back to the top. Others, such as Hamasaki Ayumi and Utada Hikaru, may have usurped that position but Amuro had no plans to fade away. In 2005, she took over the child-rearing duties from Sam and this new image of a single working mother may have helped give her career a new boost.
Amuro may no longer have the influence to shape a whole generation but she has stayed at the top of the charts and has enjoyed solid sales of her musical releases, not only in Japan but increasingly across Asia. In 2007, she set a new record for a female artist with 13 straight years of Oricon Top 10 chart hits. And with the success of the album "Past < Future" in 2009, she became the first solo artist to top the charts with an original album in her teens, 20s and 30s.
---
Links