Musicians
B'z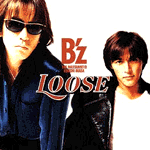 Inaba Koshi (Osaka, 1964- )
Matsumoto Tak (Osaka, 1961- )
The two-man rock band B'z (pronounced beez) is made up of vocalist Inaba Koshi (photo, right) and guitarist Matsumoto Tak (left). Formed in September 1988, the band has released over 40 singles and 20 albums, all of which have gone straight to the No.1 position in the Oricon charts, a remarkable feat. B'z are also easily the best selling band in Japan in terms of both singles and albums. When chart ranking company Oricon celebrated its 40th year in the business in 2006, it ranked the biggest sellers of the past four decades. Top of the male rankings were B'z, who at that point had sold a staggering 41,450,000 albums and 33,210,000 singles. They also had the most million-selling singles (15) and albums (19).
Matsumoto lists a stint at fast food restaurant chain Mos Burger on his resume. But feeling a life flipping burgers wasn't for him, he became a backing guitarist for the successful band TM Network (which included soon-to-be super producer Komuro Tetsuya) after graduating high school in Osaka in the 1980's. He released a couple of solo albums and was looking to set up his own band but was in need of a vocalist. Having come across a tape of Inaba's singing, which won him a local song contest, Matsumoto contacted the unknown singer. After jamming their way through a couple of Beatles songs in a studio, the pair decided to team up.
Both artists were interested in straightforward western-style pop and rock music: Matsumoto's first visit to a live concert was Deep Purple, while Inaba's live "debut" was when he saw The Police. Together they started off producing the kind of pop music that was prevalent at the time but later moved towards a harder rock style. Matsumoto writes all the music while Inaba takes care of all the lyrics. Inaba, originally from Okayama prefecture, is qualified as a math teacher, having graduated from Yokohama National University. Before finding success as a musician, he worked as a home tutor and in a sandwich shop. Following the formation of B'z, he has released several solo albums and written songs for other artists.
Whatever their success in terms of sales, B'z started to hit the real big time in 1994. They played their first big outdoor concerts, performing before 100,000 fans over two days. In 1998, the band took the Japanese music business by storm when they released two separate collection albums, B'z The Best - Pleasure and B'z The Best - Treasure, both of which sold over 5 million copies. In 2003, they reissued 10 singles on CD at once and completely took over the Oricon Top 10 chart.
Inaba's distinctive vocal style and Matsumoto's fiery guitar work make for a brand of rock that resembles the "visual" (bijuaru kei) bands that were particularly popular in the '90s. But B'z have a more down to earth rock-an-roll style and, were it not for the fact that they sing only in Japanese, could possibly make it in the west. Both claim to have been good at English in school but like many successful artists in Japan, the leap to success abroad is very daunting. A wider western audience had a chance to sample the band's music at the 2001 World Swimming Championships in Fukuoka, when the lively single Gold was the the theme song and played almost non-stop.
---
Links