Musicians
Dragon Ash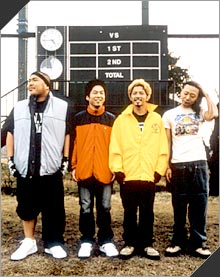 Furuya Kenji/KJ (vocal, guitar, 1979- )
Sakurai Makoto (Drums, 1979- )
Baba Ikuzo/Ikuzone (Bass, 1965- )
Bots (Turntable, 1978- )
Hiroki (electric guitar, joined in 2003)
ATSUSHI (dance, joined in 2003)
DRI-V (dance, joined in 2003)
The late 1990s saw the birth of several movements in Japanese pop music. There were the new divas who were independent, original and wrote their own songs -- Utada Hikaru, Hamasaki Ayumi, Shiina Ringo -- who stood out in contrast to the manufactured idol groups typified by Morning Musume. Then there was the New Rock Movement, heavily influenced by music in the US. One group in particular helped pave the way for a whole new breed of bands that tapped into the growing sub-culture of Japanese youth.
Dragon Ash started out in 1995 as a straightforward punk rock band, put together by 17-year old high schooler Furuya Kenji (photo below), son of actor Furuya Ikko. Furuya had tried his hand at acting, appearing in one movie and an occasional TV show before deciding that his future lay in music. He and school friend drummer Makoto Sakurai held auditions for band members and ended up hiring 29-year old bassist Baba Ikuzo, known by his nickname Ikuzone. Furuya was smart enough to know that Baba could be a mentor whose experience could open doors he couldn't.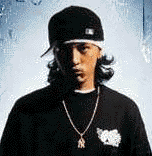 The band made their live debut at the famous Club Citta venue in Kawasaki in August 1996 and signed with Victor Entertainment in 1997. That year also saw the contribution of DJ Bots, another school friend of Furuya, whose skills on the turntable helped them spice up their rock sound with hip hop, funk and rap cuts. Several mini albums and their debut album Mustang followed, which were moderately successful but didn't make a big splash.
1998's Buzz Songs, featuring Bots as the official fourth band member, was a skillful blend of rock and hip hop (with faltering attempts at English lyrics) that stood out from everything else getting airplay in Japan (I came across the album by chance and, despite a price tag 50% higher than foreign CDs, splashed out on it). But the real breakthrough came with a couple of maxi singles released together in May, 1999. I Love Hip Hop speaks for itself but the chart buster was the melodic Grateful Days, which reached No.1 in the Oricon charts and remains their best-loved hit. They had found their groove and had matured into a Japanese version of the Red Hot Chilli Peppers or Beastie Boys, though the artist they seemed to admire most (and sampled on Grateful Days) was The Smashing Pumpkins.
Rather than just milk their new-found success and settle into an easy 'single-album-tour-video' routine, Dragon Ash have managed to keep doing things their way. There have been a few albums, such as Lily of Da valley (2001), Harvest (2003) and Independiente (2007), but the focus has been on maxi singles, live shows, collaboration with other artists and solo work. Furuya, these days using the more cool moniker Kj, has worked as a producer and with Bots put out some records as Steady & Co. In 2000, Dragon Ash put together the first Total Music Communication Tour, bringing attention to a host of upcoming rock bands such as Missile Girl Scout, Penpals, and Skebou Kings. In February 2003, it was announced that Dragon Ash, together with hip hop groups Mach 25 and Source were forming their own label, named Mob Squad.
Though Dragon Ash have been somewhat out of the limelight in the last few years, Furuya at least got some media attention when he married popular former bikini model-turned-talento Megumi in 2008.
Tragedy hit the band in April 2012 when Izuzone died following a heart attack at his home studio in Tokyo. He was just 46.
---
Links