Musicians
Hotei Tomayasu
(Gunma Prefecture, 1962- )
At 190cm, Hotei Tomayasu is one of the most intimidating people in the Japanese music world. This image has also been put to good use when casting him as the villain in movies and TV commercials, most notably as the sinister man in black chasing Nagase Masatoshi in the Boss coffee ads. Over a long musical career as a guitarist with one of Japan's legendary rock bands, guest artist and solo performer, he has developed a worldwide reputation as Japan's premier axeman and has sold over 25 million albums.
Hotei first stated playing the guitar in junior high school. In high school, his band Blue Film finished runners up in a school contest to Death Penalty, a band led by Himuro Kyosuke. Hotei was expelled shortly before graduation. The reason was supposedly that, when warned about his long hair he replied "Jesus had long hair!" Shortly after, he went to Tokyo where one day he received a phone call from Himuro. The two had never really known each other but hit it off and went on to hold auditions for a new band, which in 1981 became the six-member Boøwy.
The band name was originally written in kanji, with the meaning of "tyrant". They played their first gig at Shinjuku Loft "live house" in Tokyo but shortly after lost their drummer. He was soon replaced but after the release of their debut album, Moral in 1982, two more members left the band. From that point on, they continued as a basic four-man unit: Himuro (vocal), Hotei, Matsui Tsunematsu (bass) and Takahashi Makoto (drums). They chose an old school friend of Hotei as manager and decided not to sign with a label but set up their own production company ø Connection.

Boowy Logo
Moral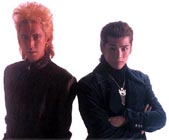 Hotei (left) and Kikkawa
Boøwy quickly built up a reputation as Japan's No.1 rock band. They also saw themselves as having appeal abroad and played London's Marquee Club in 1985. But at the time rock was not mainstream in Japan and it wasn't until their 5th album, Beat Emotion in 1986 (album cover), that they had their first million seller. However, it is an indication of the band's stature that their farewell gigs, two nights at the newly opened Tokyo Dome in 1988, sold out all 95,000 tickets in ten minutes. Scalpers were looking for ¥500,000 apiece for the tickets.
In 1988, Hotei released his first solo project, a techno/rock album of songs all in English called Guitarhythm which was the first in a series of four albums under that name. That year he also formed the band Complex with longtime friend Kikkawa Koji. They released two studio albums over two years, both of which reached No.1 in the Oricon charts. But the two years had put a strain on their friendship and Hotei expressed regret over ever having formed the band. A live album of their final concert at Tokyo Dome and a greatest hits album were later released. In 1995, Hotei had his biggest hit of the Guitarhythm series with Poison.
Over the years Hotei has produced many Japanese artists, including his former wife rock singer Yamashita Kumiko, and his present wife Imai Miki, whom he married in 1999. He made his movie debut in the well-received Samurai Fiction (1998), for which he also wrote the soundtrack. The movie was the first Japanese production released in Korea since WWII, while the album was the first Japanese rock album ever released there. He co-starred with Kikkawa and recorded the soundtrack for the remake yakuza movie Shin Jingi-naki Tatakai in 2000 and won the Newcomer of the Year award at the Japan Academy Awards the next year. He also recorded the catchy theme tune to Quentin Tarantino's 2003 movie Kill Bill.
But what sets Hotei apart from most Japanese musicians is the fact that he has played with some of the world's top artists. A very abbreviated list:
He backed Tracy Chapman and PM Dawn in the ANC's 60th anniversary concert at London's Brixton Academy in 1993.
He palyed on Ex-Stranglers Hugh Cornwell's 1993 solo album.
In 1994, he played at a historic UNESCO concert at the Todaiji temple in Nara. The lineup included Bob Dylan, INXS and Bon Jovi.
In 1996, he appeared at the Nippon Budokan as a special guest with David Bowie.
He was asked by Michael Kamen (who he worked with at the UNESCO gig) to play at the opening ceremony of the 1996 Atlanta Olympics.
He wrote and played songs on the soundtrack of Terry Gilliam's Fear and Loathing in Las Vegas.
He did a cover of John Lennon's Happy "Xmas/War is Over" for Merry Axemas (1997), an album put together by Steve Vai of the world's top guitarists, including Jeff Beck, Joe Perry and Brian Setzer.
In 1998, played at France's biggest live event at Belfort and at the Fuji Rock Festival in Tokyo.
He appeared at the Roskilde festival in Denmark and was the opening act for a Blondie gig in Hamburg in 1999.
At the end of 2006, it was announced that Hotei would become just the fifth Japanese artist to perform on MTV Unplugged.
---
Links