Artists
Tezuka Osamu
(Osaka, 1928-1989)

Tezuka Osamu is often called the Walt Disney of Japan, a title somewhat usurped in the last decade by Miyazaki Hayao. The title is a bit ironic given that one of Disney's biggest hits of recent years, The Lion King, is in many ways "stolen" from one of Tezuka's classics. Tezuka certainly is the founding father of the anime world and his most famous works have become truly cultural icons in Japan.
Tezuka was born in the town of Takarazuka in Osaka in 1928. The town today is synonymous with the all-female theater troupe based there. A small and bookish child, he was often bullied at school. At home, he enjoyed watching cartoons and movies on his father's small projector and reading his growing collection of comics. He would often draw his own manga or study insects. Even today, keeping beetles is a popular hobby among Japanese boys -- Tezuka's favorite was the osamushi (Ground Beetle), from which he took his pen name.
Even as he attended medical school, he continued his love for drawing manga. His mother encouraged him to follow the career path that most interested him, so he gave up his medical ambitions. From the age of 18, he worked at a furious pace and had dozens of different stories published in newspapers, magazines and books. His work gradually became successful enough to get him noticed by the big publishers in Tokyo and his career was soon off to a real start.
Series such as Jungle Emperor Leo (1950-54) and Sapphire became the standard by which all other manga came to be judged. Public reaction was not all positive, however. Some authority figures saw the manga boom as something of a plague that would lead Japan's young people to ruin. It's not clear what they thought of the adult-oriented manga that Tezuka also produced, works like Arabian Nights and Cleopatra, that had a soft-porn style.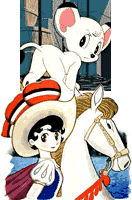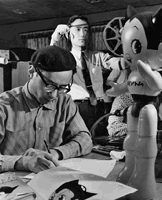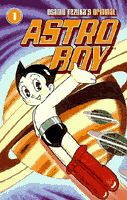 Tezuka Osamu (left of center photo) at work in his studio. Three of his most famous and beloved characters are Jungle Emperor Leo, Princess Knight and Astro Boy (Photos copyright Tezuka Productions)
Tezuka actively worked with other people in the business and encouraged young manga writers, pushing them to be creative and not focus only on what would sell. He published the magazine Com as a forum for young writers. He himself created the classic series The Phoenix for this magazine.
Osamu Tezuka's Message
What I try to appeal through my works is simple. The opinion is just a simple message that follows: "Love all the creatures! Love everything that has life"! I have been trying to express this message in every one of my works. Though it has taken the different forms like "the presentation of nature," "the blessing of life," "the suspicion of too much science-oriented civilisation," anti-war and so on.
Tezuka also worked to promote Japanese manga and anime around the world. Disney were very impressed by episodes of the Astro Boy animation, which was a hit in the US in the 60s. There were plans for Tezuka to join the artistic staff of Stanley Kubrick's "2001 - A Space Odessy" but his schedule wouldn't allow it.
Tezuka died in 1989, having drawn 50,000 pages of manga comic art and created 60 animations.
Astro Boy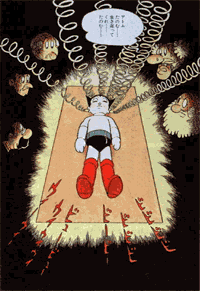 One of Tezuka's earliest and most enduring creations was Tetsuwan Atomu (Mighty Atom), who later became better known (outside Japan anyway) as Astro Boy. Originally created in 1951 as Captain Atom, a supporting character, he gained immortality in the sequel Astro Boy. Set in a futuristic world (his "birthday" was set as April 7, 2003), the boy robot battled the forces of evil and destruction threatening the world, and quickly captured the hearts of the comic's readers. Between 1952 and 1968, Astro Boy appeared regularly in the Shonen manga, published by Kobunsha. With many similarities to Pinocchio, the fact that he could never grow old was a cross for the character to bear but also central to his enduring appeal to fans of all ages.
Created in a lab (left) by Dr. Tenma to replace his dead son, Astro Boy was abandoned when the scientist realized he could never be human. Sent to a robot circus, he was persecuted by humans until he was rescued by "robot rights" activist Dr. Ochanomizu. He helped the boy robot to develop his human characteristics and use his powers to fight for humankind. Researchers say the popularity of Astro Boy is one reason why Japan seems to accept domestic robots more readily than other nations do.
Astro Boy was the first animation series to appear on Japanese television, making its debut on Fuji TV in 1963, produced by Mushi Productions. The 30-minute show was hugely popular and led to the animation boom that still continues today. There was a revival in the 1980s, when the first color TV series was aired. Celebrations of Astro Boy's "birthday" on April 7, 2003 coincided with the launch of a new 50-episode TV series. He was named an honorary citizen of a Saitama Prefecture town where Tezuka had a studio. The Takadanobaba district of Tokyo where Astro Boy was said to have been born held a parade to mark the occasion. All typical PR perhaps, but the character's appeal is as strong today as ever.
---
Links
The official site Tezuka World is wonderful and as entertaining as you would expect.