Chubu Region: Mt. Fuji Area
Chubu Region: Hokuriku | Japan Alps | Mt. Fuji Area | Southern Chubu/Pacific Coast
---
The most recognizable mountain in the world, Mt. Fuji is one of the symbols of Japan and at 3,776m it is the country's highest mountain. Although it has lain dormant since 1707, it is still classified as an active volcano. Best viewed in winter or early morning when the air is clear, Fuji-san stands alone and is always a spectacular sight. It has been the subject of countless works of art, such as the 'Thirty-six Views of Mt. Fuji', a series of ukiyo-e (woodblock prints) by Hokusai. Many tourist spots have grown up around the mountain and many of those, such as Miho no Matsubara in Shizuoka Prefecture, are famous simply because of their view of the mountain. People often predict the weather from the shape of the clouds hovering above the summit.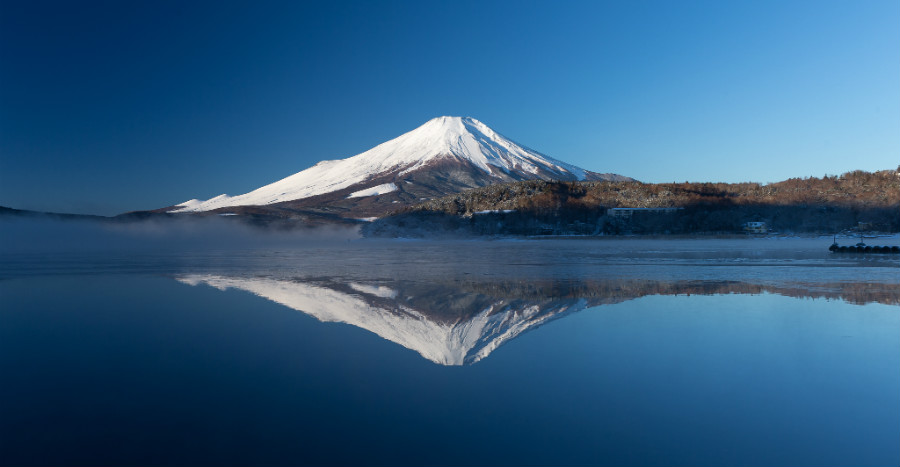 Mt. Fuji, a Beautiful Japanese Landscape
Mt. Fuji
Fuji-san has long been regarded as sacred by some sects and climbing it started as a religious pilgrimage. The official season for climbing the mountain is July and August during which some 200,000 people make the pilgrimage, although these days mostly for fun. There is a saying that every Japanese should climb Mt. Fuji but only a fool climbs it twice. Certainly the time I ventured up the slopes the biggest problem wasn't the steep climb but rather the rush-hour crowds of grandparents and kids determined to make progress slow for everyone. To be honest, with its surface of black volcanic sand and rock, the mountain is at its best from a distance but the view of the sunrise from the summit can make the climb worthwhile. The summit is around 20 degrees colder than the base so warm clothes are a must. There is a bus from Tokyo's Shinjuku station to Go-gome (5th station) on the mountain (2 hours 30 minutes), from where it's a 5km, 5-hour climb. There are several simple lodges along the way where you can get your climbing stick stamped and have a rest or a bite to eat. A 10pm start, allowing for the crowds and an occassional rest-stop, should see you at the summit in time for a memorable sunrise.
Around Mt. Fuji
There are many places in the Fuji-Hakone-Izu National Park to enjoy views of Mt. Fuji, such as Fuji Five Lakes (Kawaguchi , Sai, Yamanaka, Shoji and Motosu), Lake Ashi and Mt. Tenjo. The area is extremely popular for Tokyo residents and gets crowded during the peak seasons. Particularly popular are Lake Kawaguchi and Lake Yamanaka, where you can also enjoy boating in summer and skiing in winter. You can take a tour of Lake Ashi on a reproduction galleon. The red and yellow leaves of the maple trees make this a spectacular setting in autumn. In feudal times, all roads between east and west Japan passed through Hakone and there are museums related to the checkpoint in the town. The nearby Hakone-Yumoto Onsen (hot spring) resort boasts many hot springs and beautiful mountain scenery. The area can be reached from Tokyo via Odawara and Goda using small trains and cable cars which follow a very scenic route. Interesting souvenirs produced here include Yosegizaiku, inlaid wooden ware, and Odawara-jochin, lanterns once used to navigate the steep mountain paths.
The Sengen Shrine in the city of Fujinomiya is the central shrine of a shinto cult that venerates Mt. Fuji as a sacred mountain. It holds its major annual festival in early November and also Yabusame, demonstrations of horseback archery, in early May. The cult has some 1,300 shrines in all, most of which have sengen in their name.
Shougetsu Onsen, Hakone Yumoto

I've been to many onsen across the country, but one of the nicest was Shougetsu, in the popular onsen town of Hakone Yumoto. Hakone is one of the most famous onsen areas, and is convenient for even a day trip from Tokyo. Shougetsu is located close to the Hakone Yumoto station and is a popular spot for foreign visitors, especially as they have an excellent website in English. There is a selection of Japanese and western-style rooms, each with a lovely view of the mountains or the Hayakawa River. There are two main baths, one for women and one for men, though since one is a lot bigger they are rotated to give everyone a chance to enjoy them at their best. When I visited on a weekday, I had the huge bath all to myself. Now that is the height of luxury!

And the clincher for me was the food. It was as good as I've had at any restaurant in Japan. I lost count of how many courses there were, and by the time I'd settled into the very cool bar next to the restaurant, I didn't really care! And all this only an hour from Tokyo Station.
---
Related content