Long-term Accommodation in Japan
If you're coming to Japan for a short trip, see our page on hotels, hostels and Japanese style accommodation.
Long-term visitors to Japan or those planning to stay and work here have two main choices: share houses (also called gaijin houses) or renting an apartment or house. Gaijin houses are plentiful and have multiplied in number many times over the last 20 years or so. They are relatively cheap and have weekly or monthly rates, while finding an apartment can be a frustrating and expensive experience.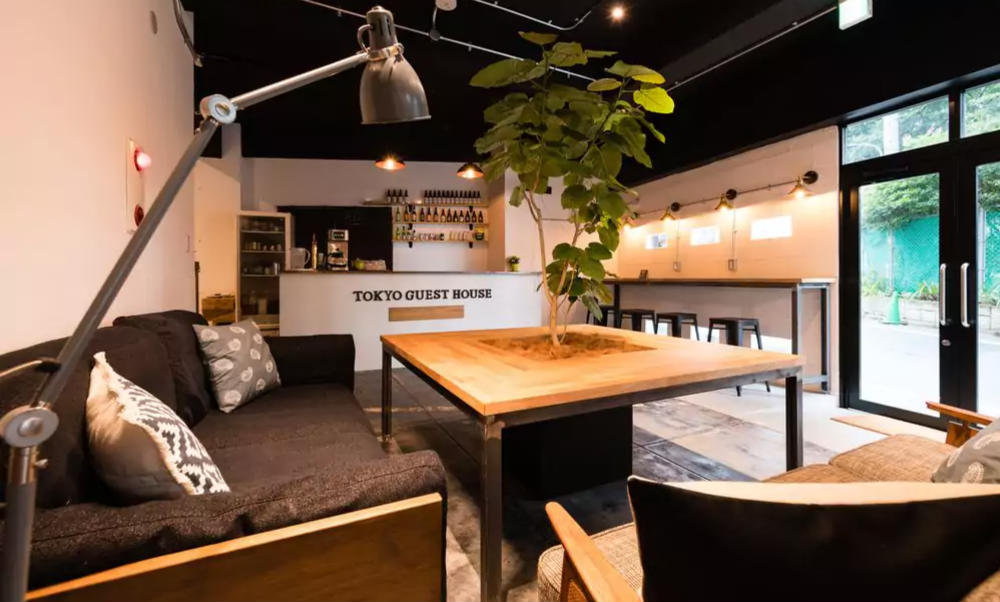 Common room in a Tokyo share house
Most people start off spending a few months in a gaijin house and move into an apartment when they've put some money together. In addition to searching online, free magazines available in bars, pubs and restaurants usually have listings of gaijin houses and their rates.
Gaijin houses
There are several hundred of these houses in the major cities and they are a popular choice for finding one's feet and checking the lay of the land, so to speak. They're a good place to meet other foreigners and find out the latest information - though, of course, not as good as this site! They usually have weekly and monthly rates (sometimes daily, too) based on private or shared furnished rooms. Rates vary but in Tokyo the average is about ¥30,000 per month for a shared room or ¥60,000 for a private room.
Kitchen, lounge and bathroom facilities are shared. The main appeal is that they require minimal paperwork and a small or no deposit rather than the huge amount that is usually charged when renting.
Rented accommodation
Anybody staying longer than a few months will probably think about getting their own place. The main barriers are cost and discrimination - it's still quite common for landlords to refuse to rent to non-Japanese - and you will also need to have a guarantor.
In the Tokyo area, they have a system called reikin, a non-refundable deposit usually called 'key money' in English. The standard rate is two month's rent, which added to the usual two month's rent shikikin (refundable deposit), one month's rent real-estate agency fee and a month's rent in advance comes to quite a hefty sum of money.
In other areas, the reikin system is not usually used but refundable deposits are higher. And the term 'refundable' is open to interpretation, too. Usually, a third or so is kept by the landlord for redecoration or replacing tatami mats or whatever.
Discrimination tends to be pretty blatant. If a real-estate agent is calling around for you, often the first thing they say will be "I've got this foreigner who's interested in your place..." - many times, they won't get any further than that. A couple of guys might want to share a place to cut down on cost - an ax murderer has a better chance of moving in, as long as he's Japanese. There are also restrictions on pets, children, students etc.
Rents vary greatly depending on location, distance from the nearest train station, size, age of the building and the floor the apartment is on. In Tokyo, you can find a tiny, old one-room place with a gas stove and no bathroom for ¥30,000 a month or pay a million yen a month or more for a big Western-style apartment in the center of town.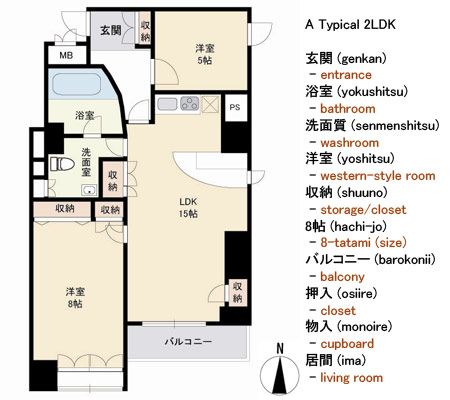 One think you'll need to get used to is the simple system for describing madori or room layout. A typical family apartment might be described as 2LDK. The 2 refers to two bedrooms, the L to the living room, the D to the dining room/area and the K to the kitchen. Often the LDK is actually one large space with an open plan kitchen separated by a counter. There may be an S thrown in there too, which refers to a study.
The 2LDK apartment shown above doesn't, but many apartments will have at least one room with tatami flooring, as this seems to be regarded as the way to retain that essential Japanese-ness. If an apartment is described as "one room" or 1R, it is essentially a studio, with no separate kitchen and probably a "unit bath," with a toilet, sink and bath/shower crammed into a small space.
Apaato vs Mansion
A possible source of confusion is the Japanese words for the two types of apartments - apaato and mansion. Apaato means a wooden apartment building, often old and with little or no sound or heat insulation. They tend to be on the cheaper end of the scale although often they are quite nice and comfortable.
The word mansion is especially misleading. It conjours up images of a palatial home with a servant's wing and dozens of guest bedrooms. Actually, it just means an apartment in a steel structure or concrete building. The buildings can be small with 10 or so apartments or 30 stories high with high-speed Internet access and an indoor swimming pool.
They usually have a western-style design and tend to be more expensive and have more modern conveniences than apaato. Mansion buildings can also be split into two types - chintai for rental units and bunjo, which are condominiums built to be sold to individual owners.
---
Related content: