Short-Term Accommodation
On arrival in Japan, one of the first things you'll need to organize is a place to stay. Of course, the best Tokyo hotels are among the most expensive anywhere. But for the short-term visitor there is something for every budget, with the sliding scale consisting roughly of: hotels, ryokan (Japanese-style inn), pensions (B&B), minshuku (family-run guest house), business hotels, capsule hotels and youth hostels. We cover those below.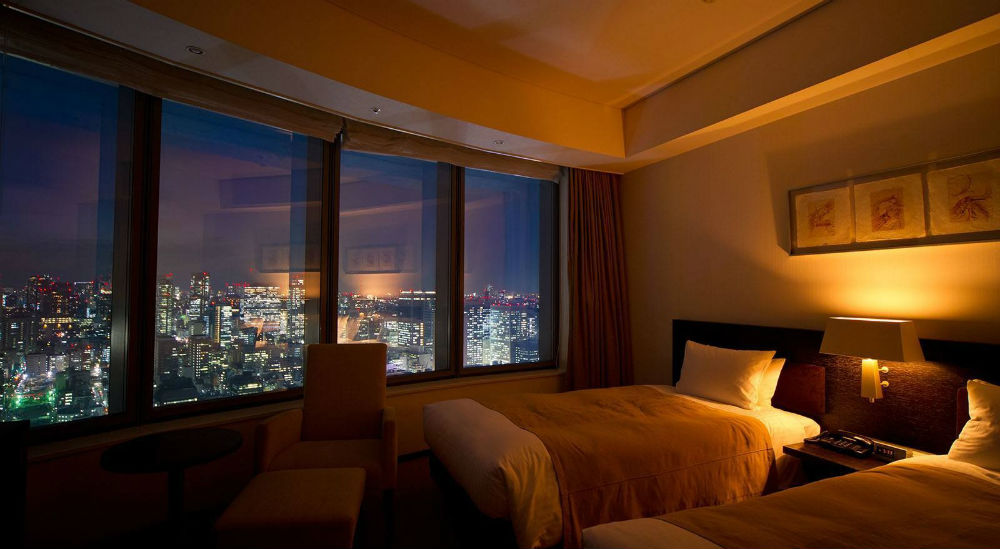 Room with a view for about 26,000 yen/night (courtesy of Park Hotel Tokyo)
Our recommendation? In one of the world's most expensive cities, hostels provide accommodation that won't leave you penniless for the rest of your trip.
Long-term visitors or those planning to stay and work have two choices: share houses (gaijin houses) or renting a house or apartment.
Hotels
Almost all western hotels belong to the Japan Hotel Association and have high standards of service and facilities. Both Japanese and foreign-owned hotel chains operate in the major cities. Prices for a twin room range from reasonable (8,000 yen) to very expensive (300,000 yen). Check-in and check-out are around 11am or noon. A service charge of 10 percent is added.
The most famous hotels in Tokyo include the Keio Plaza Hotel and Park Hyatt in Shinjuku, the Hotel New Otani near Akasaka and the Imperial Hotel in Hibiya. The Miyako Hotel in Kyoto is one of the most expensive in the country. Western chains that operate in Japan's major cities include Hyatt, Hilton and Ritz Carlton.
Business hotels
Basically budget hotels for travelling businessmen. Usually located near major train stations, they provide cheap, no-frills accommodation. Rooms are small and sparsely furnished and drinks and snacks are usually available from vending machines. Rates are around 5,000 yen per person. Check-in is usually 3-4pm and check-out around 10-11am. No service charge.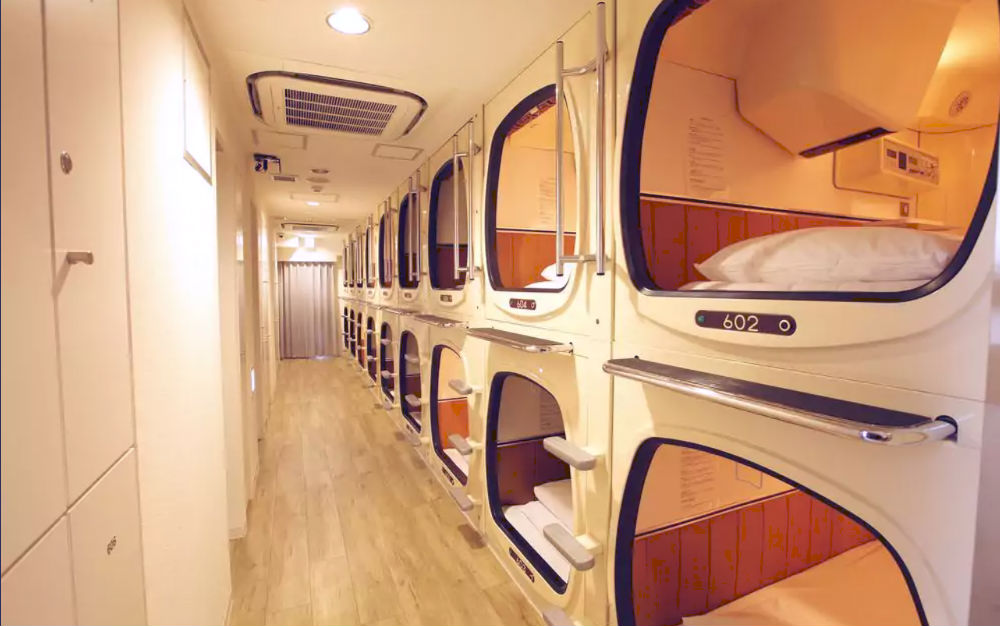 An older capsule hotel
Capsule hotels
An experience unique to Japan is a night in a capsule hotel. These hotels don't have rooms as such - guests literally sleep in capsules, like bees in a hive. Each capsule has a TV, air-conditioning, a telephone and a curtain rather than a door. Being tall and slightly claustrophobic, I expected this to be an unpleasant experience but actually found it pretty comfortable, not to mention memorable. In recent years, the model has become quite varied and some capsule hotels now offer a slightly more sophisticated space, more like miniature rooms.
Capsule hotels have communal bathing and lounge facilities, with vending machines providing all the necessaries. The lack of privacy is probably the reason why women don't seem to use capsule hotels as much but, as far as I know, there is no restriction. Often, signs outside announce that people with tatoos are unwelcome - a measure to keep out yakuza. Rates are around 5,000 yen per night. No service charge.
Pensions
The name is taken from the French and these Bed & Breakfast-style lodgings are a recent feature in Japan. They can usually be found near ski resorts or lakes and are often built in the style of log houses or mountain lodges. Pensions provide a relaxed, family atmosphere and rates are around 6,000 to 10,000 yen, including two meals.
While rooms are usually wester-style, bathrooms are Japanese-style and the hot water is often fed from a natural onsen (hot spring). Check-in and check-out are around 11am or noon. No service charge.
Youth hostels
The 500 or so hostels in Japan are much as you would find in other countries. They are the only accommodation available in some remote areas. About 75 hostels are publicly run and open to anyone. The rest require you to have a membership card from your country's YHA or Japan Youth Hostels. You need to have a regulation sleeping sheet and most places don't allow sleeping bags.
In some older hostels, you sleep on the tatami floor but most have bunks. Many have family rooms or can accommodate families except when very busy. Some youth hostels are run in o-tera (Buddhist temples) and provide the right environment for the ascetic traveller. Officious hostel staff can be found in any country and Japan is no exception - strict curfews and the need for advance bookings are not uncommon. Rates are between 1,500 and 2,500 yen per night for a shared room.
Japanese Style Accommodation
Ryokan
These inns usually have Japanese-style architecture and serve Japanese food. Rooms have tatami (reed mats) floors, and futons for bedding. Of the 90,000 or so ryokan in Japan, some 2,000 have western-style rooms for foreigners.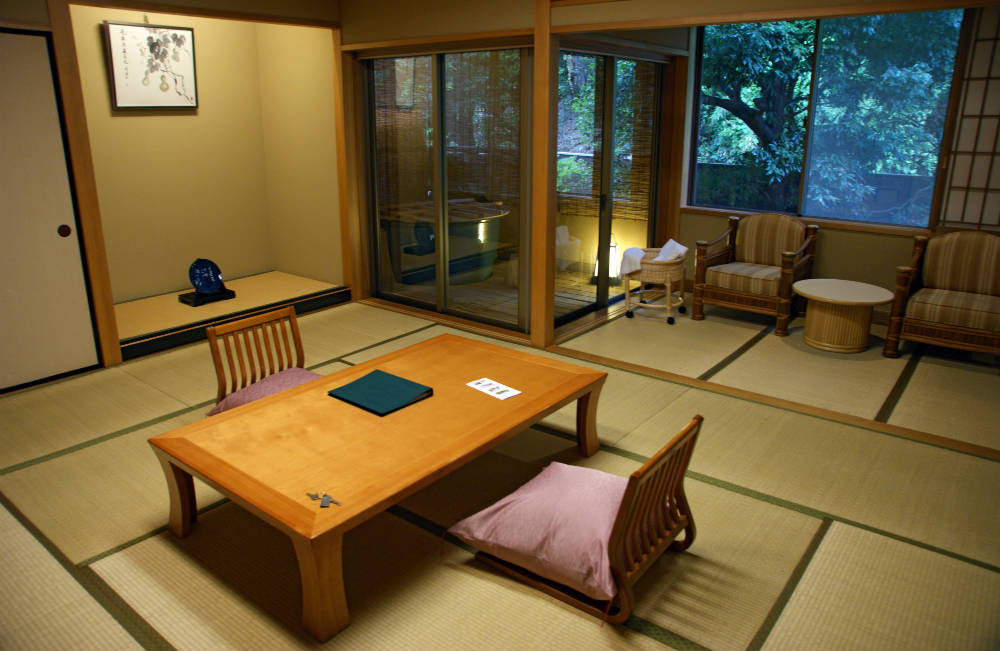 A large Japanese-style ryokan room
Rates per person, including two meals, vary from 5,000 up to 60,000 yen and are usually based on two or more people sharing a room. Check-in is around 4pm and check-out around 10am. Often rooms don't have keys so valuables should be left at the front desk. A service charge of 15 percent is usually added.
On entering the ryokan, guests take off their shoes and wear the slippers provided, except on tatami floors. On arrival, a maid will serve tea and maybe a light snack in the room. You should give a tip of one or two thousand yen, in a white envelope or wrapped in white paper. The maid will also lay out the futons in the evening, usually while guests are bathing or eating dinner. A yukata (light cotton kimono) or dotera (padded coat), depending on the season, is provided for comfort. O-furo (bathrooms) are Japanese-style and often communal (but separated by sex!).
Minshuku
A kind of family-run guest house, minshuku are private establishments and don't have many of the services or amenities provided by ryokan or hotels. Rates at the 25,000 or so minshuku average around 7,000 yen per person, including two meals. o service charge.
---
Related content: